Heading off to Budapest
The sun is sliding down the horizon at Logan airport, Boston USA, as we, Alan and Diane, wait for the Lufthansa plane which we will board to start our journey. We will travel  to Frankfurt, Germany and then on to Budapest, Hungary.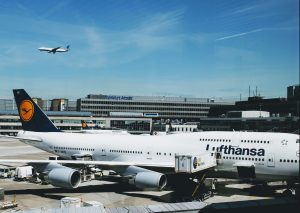 We look forward to an invigorating ten days spending time catching up with friends, colleagues, and family members. Alan will present his research paper in person at the MAFITT (Hungarian Society for Philatelic Research) meeting in Budapest on Saturday and then he plans to spend time browsing local stamp shops. We are very pleased to be meeting with representatives of Magyar Posta regarding our expanding business relationship and the artist stamp proposal. We also plan to meet with both an internationally recognized art historian and an art curator. Between all that, we look forward to enjoying tasty meals at local bistros and cafes, doing some sightseeing, and visiting with family and friends.