Dear Philatelic friends and colleagues,
We at the Hungaria Stamp Exchange hope you are enjoying the start of the 2020 New year! Here at the Hungaria Stamp Exchange we are delighted to greet many of our long-time customers and welcome newly acquainted collectors and supporters of philately. We thank you all at the start of the year for your continued support and business.
Before you completely turn the page to the next decade we hope that you can take a few minutes to join us in a review of both the exciting and magnificent postal offerings of the last decade and a look at what the closing of the decade means for HSE.
In the past decade Eastern and Central European philately has been gaining international interest for both country and topical collectors alike. Central and Eastern European stamps can be considered a collectors' dream with engaging graphics and designs; the breadth of topics ranging from World Heritage sites to bridges and castles, cats & dogs, religion and holidays, space, transportation, youth, social causes and more.
Very few geographic areas can boast that a topical collector can collect that same topic many times over but never leave that geography! For example, a sports stamp from Yugoslavia can be collected again as a sports stamp from Croatia, Macedonia, Serbia, Montenegro, Slovenia, Bosnia and Herzegovina.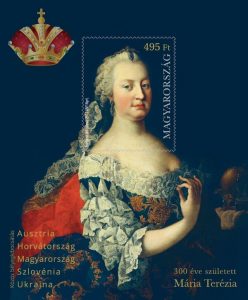 Adding to this phenomenon is that of Joint Issues countries in Central and Eastern Europe which jointly honor monarchs such as Maria Teresa, scientists such as Tesla and common cultural and historic events.
Europa are special stamp issues offered by European Postal administrations to promote cooperation across postal domains and philately. These stamps help build awareness of common culture, roots and history of Europe. First issued in 1956, the 2019 Europa issue is National Birds. HSE is pleased to offer these from most Central and Eastern Europe and we have quite a variety and range of countries to choose from.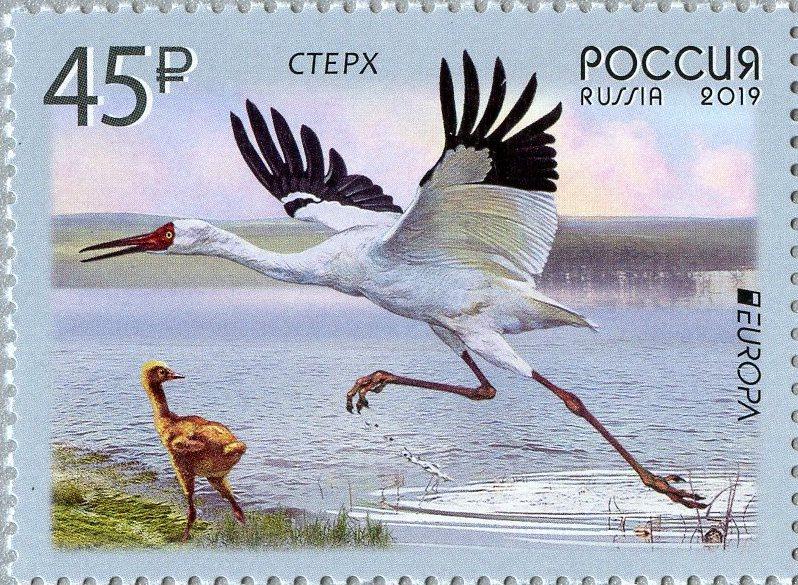 HSE is proud to offer the year sets of 2019 from Hungary, Czech Republic, Slovakia, Croatia, Slovenia, the Baltics – Estonia, Latvia and Lithuania and Moldova.
Highlighting the new issues of Croatia we find delightful Child's World stamps: Health through Sports and Pets (Siberian Husky, Pug, King Charles Spaniel, St. Bernard) . Returning to the offerings are stamps of Castles and Bridges, Christmas and Easter, as well as a beautiful philatelic Tourism Series of the Plitvice Lakes. There is a wonderful 100TH Anniversary of the Ethnographic Museum Zagreb as well as Art on Stamps. An issue honors the 10th Anniversary of the Accession of the Republic of Croatia into NATO as well as the Croatian War of Independence Guards Brigade which currently supports NATO.
Sports stamp 2019 issues from Croatia include a celebration of the winner of the tennis Davis Cup , a major feat for a country the size of Croatia and a tribute to Luka Modric World Cup Soccer athlete.
There is a lovely joint issue celebrating national parks from Croatia and Korea.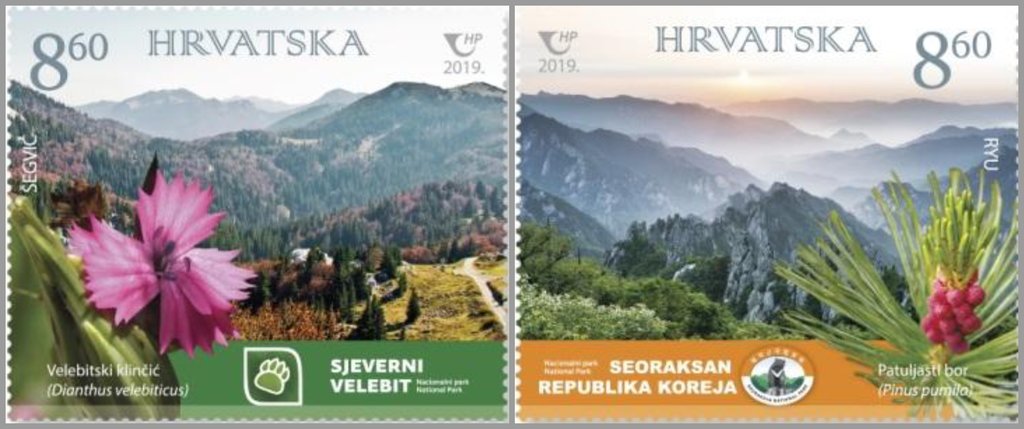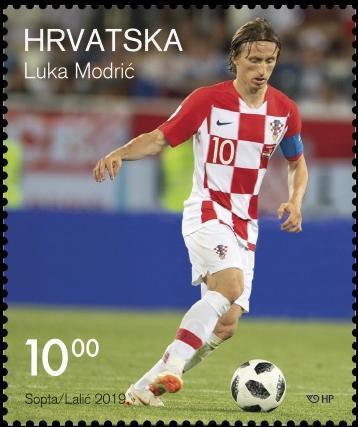 New Issues Include beautiful Art on Stamps commemorating the works of artists Ota Janeček, Zdeněk Sýkora and sculptor Ladislav Šaloun. There is an issue of 100 year tribute to the Red Cross, Winner Over Time, tribute to Race Car design and racing and the "World in Clouds" highlighting Vintage Electra Aircraft. An important issue commemorates the 30th Anniversary of the Velvet Revolution and Karel Kryl poet and protest songwriter instrumental in speaking for freedom from the Soviets in 1989.
Returning philatelic themes of Czech Republic include Prague Castle – UNESCO World Heritage site and Natural Resource protection of Zoological Gardens and production of stamps themselves. And as also offered by Hungary, a stamp honoring Mahatma Gandhi. There is even a Czech postal issue celebrating the Sovereign Military Order of Malta, the 50 year anniversary of the Čtyřlístek (Four-Leaf Clover), one of the best-known and longest-running Czech comics and the invention of the sugar cube!
New Issues pay tribute to the 100th Anniversary of the treaty of Paris (Versailles) ending World War l and granting independence to Slovakia. Also featured on Slovakia stamps in 2019 is Civil Aviation, the International Mathematics Olympiad, and Ice Hockey Championship. Slovakia also celebrates the 50th Anniversary of the Union of Philatelists.
Returning themes are Christmas and Easter, National Resource Protection – Ice Caves, and Children's book illustration stamp issues.
Joint Issues of Slovakia
Time Keeping Devices is issued jointly with Slovenia, while a joint issue with Czech Republic commemorates the Velvet Revolution. There is a magnificent joint issue with China celebrating 70 years of diplomatic relations and features treasures from the T'ang Dynasty.
Heroes and Martyrs
There is an issue commemorating the 400th Anniversary of the Martyrs of Košice which are the same three martyrs celebrated by Hungary in its Saints & Blessed series.
Special Hero tribute is made with the issue honoring Michael Strank. Michael Strank, immortalized in the iconic World War ll photograph by Joe Rosenthal, captures one of the key moments of the hard fought 1945 battle for the Pacific Island of Iwo Jima.
Born Michal Strenk in the village of Jarabina Czechoslovakia in 1919, he came to the United States with his family at age six. Later he joined the US Marines and became the US Special Forces Marine Sargent who planted the US flag on the infamous hill in Iwo Jima 1945. The photograph of this act is a model for the bronze monument in Arlington National Cemetery in Washington, DC. At the time of his death, he was still a Slovakian to become an American citizen posthumously in 2008.
We find the colorful stamp honoring Jules Verne's Captain Nemo to support youth stamp collecting. There is a commemoration of the 150th anniversary of Mendeleev's creation of the Periodic Table of Elements, philatelic sets illuminating postal history, the inviting Fairy Tale stamp featuring Susu The Dragon, the Museum of Fine Arts Romanesque Hall which was recently renovated, the 150th celebration of the birth of Mahatma Ghandi and Joint Issue with Japan celebrating 150th Anniversary of diplomatic relations.
130 Celebration of the Hungarian Parliament in the Inter Parliamentary Union
The Union was established at the first parliamentary conference held in Paris on 30 June 1889 by the representatives of the parliaments of 9 countries including one from the Hungarian Parliament. Hungary has been an active participant in international parliamentary diplomacy and cooperation from the beginning. Budapest has hosted the general assembly of the world organization on three occasions (1896, 1936, 1989)
Is commemorated by the Hungarian Post as well as Slovakian post. 400 years ago three priests refused to renounce the Catholic faith and died a martyr's death in Kassa (today Košice, Slovakia) at the hands of Prince Gábor Bethlen. They were Marko Krizin (who was of Croatian origin), the canon of Esztergom and archdeacon of Komárom, and two Jesuit priests, the Polish Melchior Grodziecki and the Hungarian Stephen Pongrácz.
And of course the 50th Anniversary of the Moon Landing.
On July 21, 1969, Neil Armstrong stepped on to the surface of the moon as part of the Apollo program announced by US President John Fitzgerald Kennedy. Other members of the Apollo 11 expedition were Edwin "Buzz" Aldrin and Michael Collins. Astronauts used a moon ferry to get from the spacecraft to the moon and climbed down a ladder. Here on the postal issue, measurements are made with various instruments, and rock samples were collected. A thumbnail block depicts an astronaut walking on the moon with the moon compass in the background. The legend has the footprint left on the moon has remained virtually unchanged.
HSE Looking at the past decade
Last decade was an exhilarating and exciting time for us at the Hungaria Stamp Exchange and we thank each of you for your support and encouragement along the way.
Last year we moved the business and our home literally "lock, stock and barrel" to a new location on the beautiful island of Martha's Vineyard, Massachusetts and believe we never really missed a beat being available to our existing and new customers as we moved. And of course we think our new facilities are great and really enjoy working and being there.
At the start of the decade we were still a part-time paper based mail order business that was just evolving. Along the way, we created the website www.hungarianstamps.com and created our e-store www.buyhungarianstamps.com thanks to Andrew (our web manager) and Stacie (our social media manager) for categorizing and posting products for all to enjoy. But most important while we have moved to a thriving e-commerce business with an expansive online store we still enjoy speaking with and hearing from our customers and longtime acquaintances by phone or email.
More than Hungary !
At the start of last decade we were primarily a dealer of Hungarian philately which we still embrace. As our customers moved to expand so did we. We currently stock most Central and Eastern European philatelic offerings or can order what we do not have in stock. If there is something you need or want that is not in our online store just give us a call at
(888) 868-8293.

Here is a list of all the Eastern and Central European countries, current and "dead" .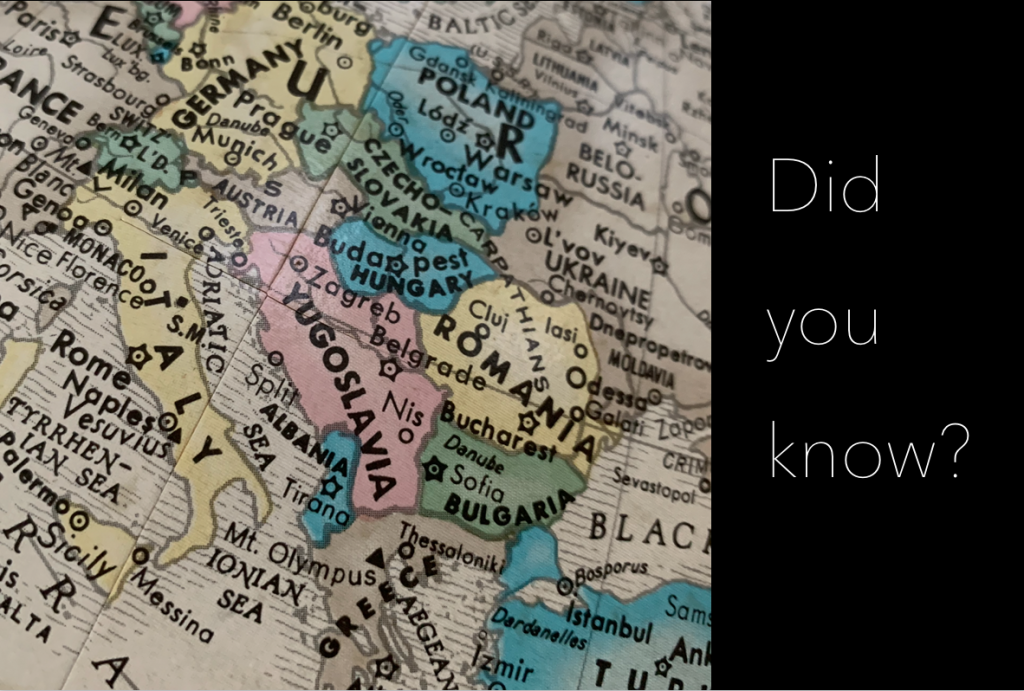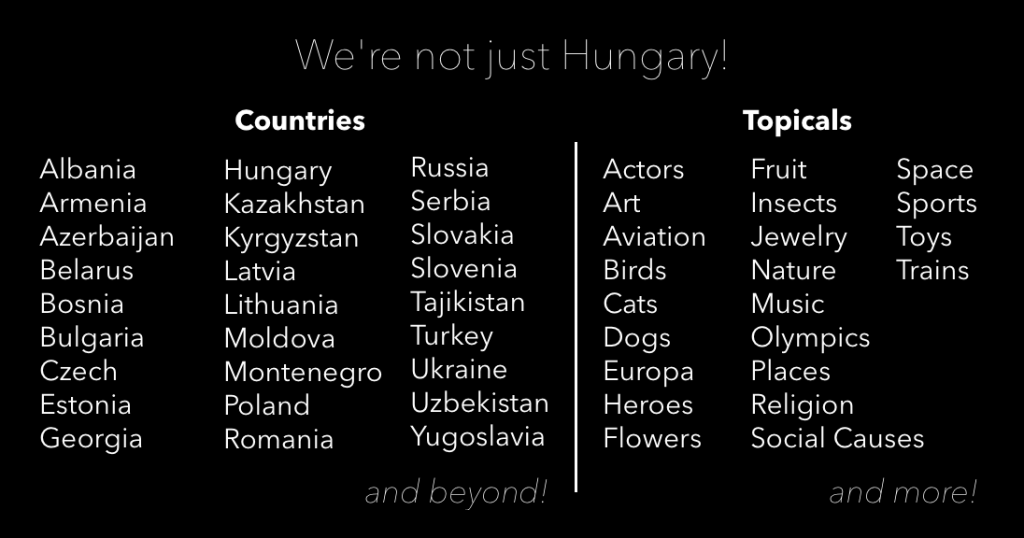 Hungaria Stamp Exchange offers philatelic appraisal services for all philatelic offerings. We have also acted as "Buyers" agents and "Sellers" agents to support our customers changing needs and changing times in their philatelic journey.
We look forward to 2020 and continuing our and your philatelic journey together.
From our family to yours, We wish you a Peaceful and Healthy New Year,
The Bauer Family