Countries Stocked
Countries on the list below are all generally regarded as a part of Eastern Europe. Over time, political boundaries change and as a result, some countries are known under aliases or simply do not exist today. While discovering this history is a large part of what makes collecting fun and exciting, it can be confusing for those unfamiliar with the area & its past.

Located on the Balkan peninsula, Albania was part of the Ottoman empire until 1912. It first issued stamps in 1913 with the famous, and valuable, double eagle series. Albania has since issued many beautiful stamps and a wide range of topicals, in various categories. Our stock consists of most regular issues and BOB, along with many year sets. We also have a wide range of locals, occupations and revenues along with some stamps from Central Albania. We also have stamps from the state of Epirus, which became part of Albania in 1912.
Austria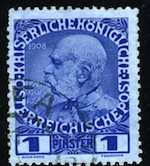 Austria, located in Central Europe, was part of the Austro-Hungarian empire until its breakup in 1918. It was one of the first countries in the world to issue postage stamps with its imperforate issue of 1850. Our stock consists of regular and BOB issues up to 1945 and the related issues including Offices in Crete and Turkey and Lombardy and Venetia.
Baltics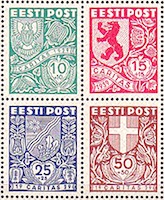 Five countries in North-central Europe, bordering on the North sea, comprise the Baltics. These countries are Estonia, Latvia, Lithuania, Memel and Central Lithuania. Each of the countries issued stamps from post-WWI to 1940. Following this, Russia occupied and then annexed the countries. In 1991, with the breakup of the Soviet Union, each country (with the exception of Central Lithuania) gained its independence.
Our stock consists of a wide variety of stamps from each country from both time periods. We also have a good selection of special issues of the Lithuanian Displaced Person Camps stamps and many Lithuanian first day covers. Our Memel stock includes most issues from 1920-1922 and many of the issues for the Lithuanian occupation prior to Memel's annexation into Lithuania. We also have many interesting occupation issues, locals and revenues from each country.
Bulgaria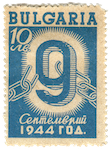 Bulgaria is also a country in the Balkan peninsula and was part of the Ottoman empire until it won its independence in 1878. It issued its first stamps in 1879. Our stock of Bulgaria consists of most of the regular issues, souvenir sheets, BOB and many imperforate issues. We also have stamps from the Bulgarian predecessor states of Thrace and Eastern Rumelia.
Czechoslovakia
In 1918, Czechoslovakia was founded as a union of Bohemia, Moravia-Silesia, Slovakia and Ruthenia. It began issuing stamps in 1918 and continued until 1992, at which time the country split into the Czech Republic and Slovakia. The relatively short duration makes it a very popular country to attempt to complete your collection. It is also a very popular country for topical collectors with a wide range of sets in several topical areas. Our stock consists of regular issues, semi-postals for Hungarian Occupation, Bohemia and Moravia, Slovakia and Eastern Silesia. We also have a wide range of topicals, locals, revenues, and First Day covers.
Greece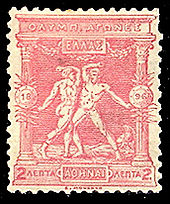 Greece is a country on the Balkan peninsula, whose first postal service was established in 1826 at the time of its independence from the Ottoman empire. The first stamps were the famous Hermes heads, which were issued in 1861. Greece's postal history is replete with beautiful topicals commemorating the Olympics and the sports played during the games.
Our stock has a comprehensive supply of the Hermes heads issues and the Olympic sets dating back to the first Olympic issue of 1896. We also have a significant stock of the many issues relating to the ancient archeology of Greece. Our stock also includes BOB, locals, occupations and the islands of Crete, Cyprus, Corfu and the Ionian Islands.
Hungary
Hungary is a central European country that was part of the Austro Hungarian empire until 1918. It has a rich philatelic history starting with their first issues in 1871. In 1920 with the Treaty of Trianon, they lost 2/3 of their territory and population. The Occupation and local issues preceding that treaty marked some of the most interesting stamps in international philatelic history. Our Hungarian stock consists of regular issues, 1919 Occupations and locals, WWII locals, Imperforate issues, Emlekivek (Specialty sheets), Year sets, first day covers and postal history, Telegraph issues and much more. We can supply virtually any philatelic item related to Hungary.
Poland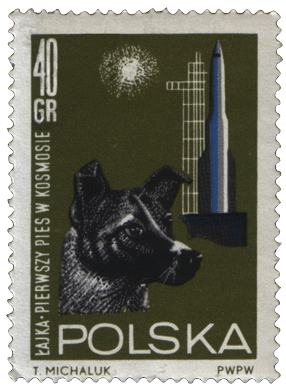 Poland is located in north-central Europe and borders on the North Sea. Its philatelic history began when in 1918, and it has been publishing beautiful stamps with rich series of topicals available for a wide range of collectors. Our stock consists of most regular issues, Occupations, 1918 Locals, WWII locals, first-day covers, Port Gdansk, Eastern Silesia and more..
Romania
In 1859, when the principalities of Moldavia and Wallachia united, the kingdom became independent from the Ottoman Empire and Romania was formed as a country. In 1918, Transylvania, Bukovinia and Bessarabia were united with the Kingdom of Romania and the country of Romania was formed. Stamps from all 5 of these territories are found throughout the issues of Romania and form a very interesting topical collection. Our Romanian stock consists of regular issues starting with Moldavia/Wallachia to modern issues. We have a large selection of year sets, BOB, revenues, locals and Occupations.
Russia
Russia started issuing stamps in 1857 and has since become one of the most prolific stamp-issuing countries in the world, with over 7000 regular issues. During WWI, several territories, which would become autonomous republics, existed in Russia. These republics, including Armenia, Azerbaijan, Far Eastern Republic, Georgia, North Ingermanland, Siberia, South Russia, Transcaucasian Federated Republic and the Ukraine, issued their own stamps, independently of Russia. In 1992, after the breakup of the Soviet Union, all of the autonomous republics became independent and started issuing their own stamps. They included the above countries, also the following – Byelarus (White Russia), Karelia, Kazakhstan, Kyrgyzstan, Moldova, Mongolia, Tajikistan, Tannu Tuva, Turkmenistan and Uzbekistan. Our stock includes stamps from all of these countries and most of the regular and BOB issues from Russia. We also have a wide range of locals, occupations and Offices in China and Turkey.
Turkey
Turkey was part of the Ottoman Empire which was in power until its defeat by the Allies in WWII. The Turkish postal system was the second oldest in Asia and began issuing postage stamps in 1863. The classic issues between 1863 and 1888 are very popular with philatelists and quite difficult to identify. Once the republic of turkey was created in 1922, the stamps took on a more contemporary look and continued their popularity. Our stock consists of both the traditional and contemporary stamps, along with the BOB issues and the also popular Postal Tax stamps. Included in our stock are the predecessor nations of Cilicia, Eastern Rumelia, Hatay and Turkey in Asia.
Yugoslavia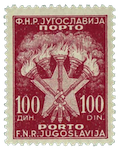 Yugoslavia was established in 1918 and a union of the Kingdom of the Serbs, Croats and Slovenes. Montenegro was annexed later that year and these states remained the constituents of Yugoslavia until after WWII. At that time, Istria, Rijeka and Zadar became apart of Yugoslavia. The Yugoslavian Socialist republic remained in force until 1992 when it was broken up into 6 independent countries – Bosnia and Herzegovinia, Croatia, Serbia, Macedonia, Montenegro and Slovenia. Two autonomous republics of Kosovo and Vojvodina were also created at that time. Our stock consists of the predecessor Occupation issues of WWI (1L, 2L, 3L and 4L) of Bosnia, Croatia and Slovenia. We have most of the regular issues, BOB and souvenir sheets from 1918 to 1991. We also have an extensive selection of mini-sheets from the 1970′s to the 1990′s. From 1992 to present, we have many of the issues of the eight independent republics mentioned above.