Dear Friends and Philatelists,
Summertime is a traditional time for taking a family holiday or perhaps visiting another country or city. The summer of 2020 finds many of us not currently able to do this given these challenging times. It is, however, an opportune time to reconnect with our stamp collections and continue our philatelic travels, perhaps to new countries or with new topics or themes. And of course, we can continue to connect with family and friends, if even at a distance. Now is certainly time to pay tribute to our many brave front-line workers.
Monarchs, Saints, Performers, & Scientists and Social Activists
Eastern European Stamps of Women span a wide range of topics, from monarchs to saints and scientists, artists and performers, to social activists and heroines. The Hungaria Stamp Exchange hopes you enjoy reading our blog post and viewing some of the stamps in our on-line store.
Monarchs
Two of the most influential female Eastern European monarchs whose combined reigns lasted almost 75 years were Catherine the Great of Russia and Maria Teresa, ruling the Hapsburg Empire. Both of these extraordinary rulers are depicted on Eastern European stamps.
Catherine the Great (born Sophie of Anhalt-Zerbst; May 1729 –November 1796) was Empress of Russia from 1762 until 1796 and the country's longest-ruling female leader. She came to power following a coup d'état that she organized, resulting in her husband, Peter III, being overthrown. During her reign Russia was revitalized; it grew larger and stronger and was recognized as one of the great powers of Europe and Asia.
In her accession to power and her rule of the empire, Catherine often relied on her noble favorites, most notably count Grigory Orlov and Grigory Potemkin. Assisted by highly successful generals such as Alexander Suvorov and admirals such as Fyodor Ushakov, she governed at a time when the Russian Empire was expanding rapidly by conquest and diplomacy. In the south, the Crimean Khanate was crushed following victories over the Ottoman Empire in the Russo-Turkish wars. Russia colonized the territories of Novorossiya along the coasts of the Black and Azov Seas. In the west, the Polish–Lithuanian Commonwealth, ruled by Catherine's former lover, King Stanisław August Poniatowski, was eventually partitioned with the Russian Empire gaining the largest share. In the east, Russia started to colonize Alaska, establishing Russian America.
An admirer of Peter the Great, Catherine continued to modernize Russia along Western European lines. The economy and military conscription continued to depend on serfdom; increasing demands of the state and of private landowners intensified the exploitation of serf labor. This was one of the chief reasons inciting several rebellions including the large scale Pugachev Rebellion of Cossacks and peasants. Cossacks were a group of Russian military warriors who established free self-governing communities in exchange for their military service. When their privileges were threatened they revolted, with the most famous being Pugachev.
The period of Catherine the Great's rule, the Catherinian Era, is considered the Golden Age of Russia. Catherine enthusiastically supported the ideals of the Enlightenment and is often included in the ranks of the enlightened despots. As a patron of the arts, she presided over the age of the Russian Enlightenment, including the establishment of the Smolny Institute for Noble Maidens, the first state-financed higher education institution for women in Europe.
A Joint Philatelic Issue Celebrating the 300th Anniversary of the Birth Of Maria Teresa was released in cooperation with Austria, Croatia, Hungary, Slovenia and Ukrainian Posts.
Maria Teresa Queen of the Hungarians, the Czechs and the Croatians, and Archduchess of Austria reigned from 1740 to 1780. As the wife of Francis l, Holy Roman Emperor she also had the title Empress and was the only female who reigned the Habsburg Monarch. She was regarded as an enlightened ruler, a great stateswoman and a reformer who also extended the kingdoms she ruled. She sought modernization and formulated reforms in the judiciary, economy, education and military. Maria Teresa abolished torture and witch hunting and improved the position of the peasants. In her legacy, Maria Teresa's lineage impacted many rulers of Europe. Of her 11 daughters and 5 sons, three became famous rulers, including Marie Antoinette, Queen of France and kings Joseph ll and Leopold ll.
Diana, Princess of Wales may be one of the foremost celebrities of her time. (born July 1, 1961, Sandringham, Norfolk, England died August 31,1997, Paris, France), former wife of Charles, prince of Wales; mother of the heir second in line to the British throne, Prince William, Duke of Cambridge
Performers & Artists
Stamps of women performers are far ranging from Édith Piaf, a French singer-songwriter, cabaret performer and film actress noted as France's most widely known international star, to internationally renowned classical pianist Annie Fischer and Hungarian Actress Klári Tolnay. And of course, a wonderful stamp tribute to world renown jazz singer Ella Fitzgerald on the Centenary of her birth. Ella Jane Fitzgerald was an American jazz singer, sometimes referred to as the First Lady of Song, Queen of Jazz, and Lady Ella.
Stamps of Women Artists include Polish Artists #405-412 Poland.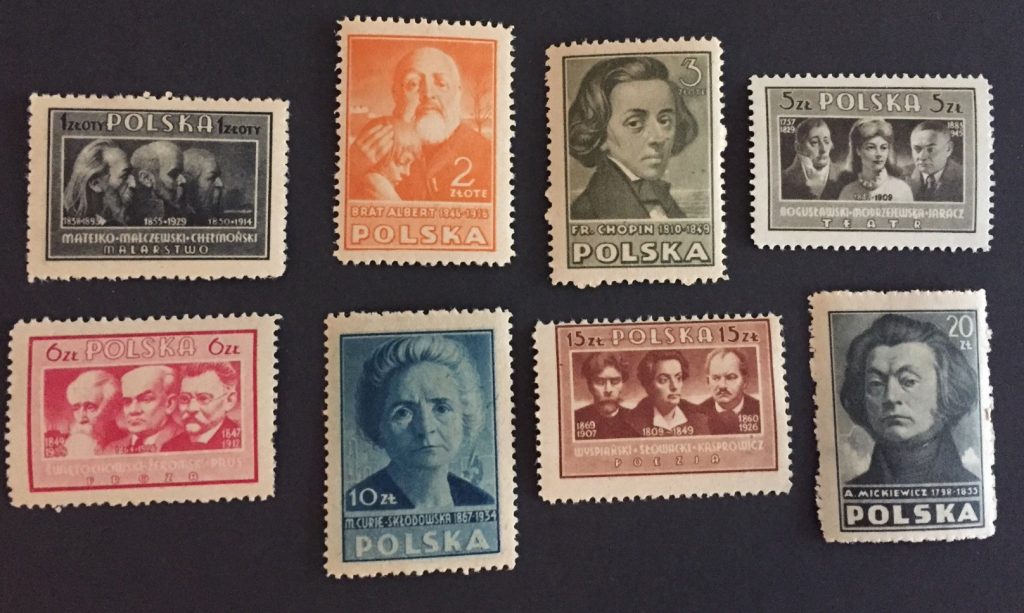 The Maximum Card #1900-1907 Hungary – Painting Type of 1967, is a wonderful presentation of women in art in this fantastic format. Paintings include Girl with Pitcher by Goya, Mary Magdalene, by El Greco, The Virgin from The Grinder, by Goya and Portrait of a Girl, by Palma Vecchio. Maximum Card #1820-1826 is an equally magnificent offering.
Europa 1996 Famous Women depicts artists, Poet Marie Under, painter Ivana Kobilca, opera singer Katya Popova, writers Cvijeta Zuzoric (born 1551), Ivana Brlic Mazuranic and of course humanitarian and saint Mother Teresa.
Saints, Scientists and Adventurers
Eastern Europeans offerings of stamps of women saints, scientists and adventurers include Hungaria Saints and Blessed series, Mother Teresa (Albania and Croatia) , Nobel Laureate Madam Marie Curie (Bosnia) and aviator Amelia Earhart (Romania).

Romanian issuance of #3345-Inventors and Adventurers include Aviator Amelia Earhart. The Russian issuances of # 718-720 celebrates aviators Paulina Osipenko and Marina Raskova who completed the first nonstop record flight from Moscow to the Far East.
Social Causes, Activists and Heroes
Eastern European stamps offer a wonderful issuance in celebration of International Women's Day. International Women's Day #1095-1100,
Russian stamp issuance honors "Lady Death": Lyudmila Pavlichenko, the Greatest Female Sniper of All Time. Pavlichenko wasn't just any soldier: She was the most successful female sniper in history. As a member of the Soviet Army during World War II, she killed 309 Nazis soldiers and even snipers, earning the nickname "Lady Death."
She was befriended by Eleanor Roosevelt, becoming the first Soviet citizen to be welcomed at the White House by President Franklin Roosevelt. She spoke candidly about gender equality, prompting Eleanor Roosevelt to ask the Ukranian-born officer to accompany her on a tour of the United States to tell Americans of her experiences as a woman in combat. Pavlichenko was only twenty-five when she had been wounded four times in battle. She also happened to be the most successful and feared female sniper in history. She readily accepted the first lady's offer.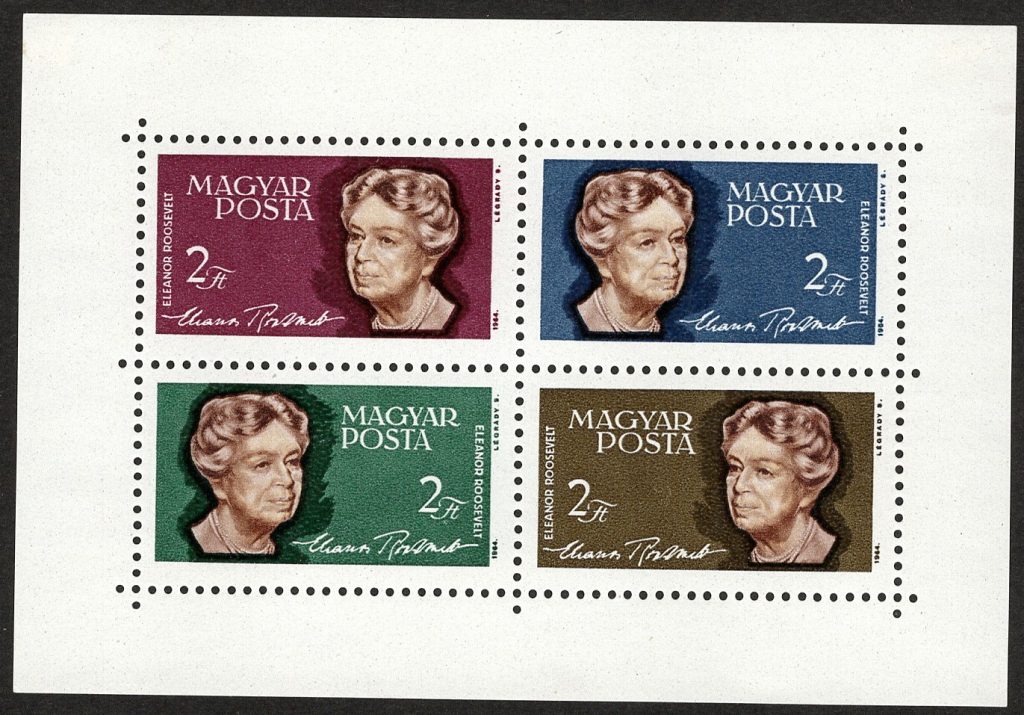 Eastern European philately offers a wide range of stamp issuances covering social causes, activists and everyday women performing heroic and extraordinary events.
Here at HSE on the Island of Martha's Vineyard, we close by sharing some simple thoughts of summer from the Hungaria Stamp Exchange. We hope you will enjoy this collage of nature, summer holidays and Children's World Stamps.
With thoughts of a Healthy World,
Hungaria Stamp Exchange
Alan, Diane, Stacie, Andrew & Diana Bauer