Whether  you enjoy taking a holiday indoors or outdoors in the summer or winter, alone in solitary reflection or with family and friends, we here at Hungaria Stamp Exchange are sure you will delight in enjoying the colorful engaging stamps of the Coastal Countries of Eastern Europe as we embark on our Philatelic Holiday.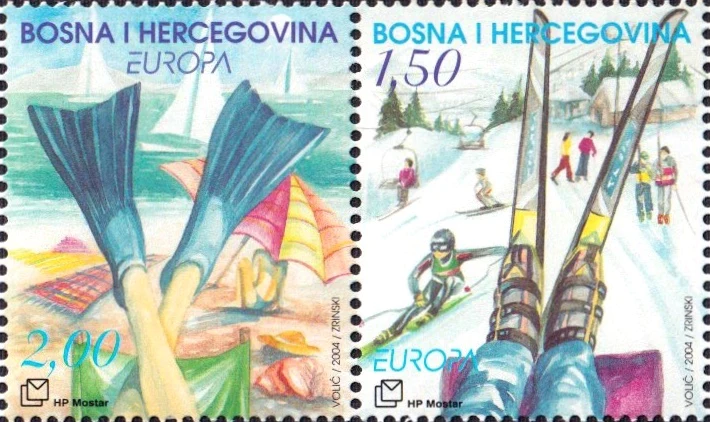 Which are the Coastal Countries of Eastern Europe?
While some of us may associate Eastern Europe with landlocked countries, the majority of countries in Eastern Europe have a coastal border. In the north, Estonia, Latvia, Lithuania and Poland as well as the Russian city of Kaliningrad have a border on the coast of the Baltic Sea. In the West, Slovenia, Croatia, Bosnia, Montenegro, and Albania each have a coastal border on the Adriatic Sea. In the South, Greece has a coast on and many islands in the Aegean Sea while Turkey has a coast on the Aegean Sea as well as on the Black Sea. On the East, in addition to Turkey, Ukraine, Romania, Bulgaria, Georgia and Russia have coasts on the Black Sea.
It sounds like we have lots of Eastern Europe Coastal countries for enjoying our philatelic holiday! Now we can decide on our holiday venue, whether the mountains and streams of a national park, the splendor of a world heritage site, or beaches.
Europa
Some of these delightful stamps we have selected for our Coastal Eastern European Philatelic holiday are Europa stamp issuances. Europa are special stamp issues offered by European Postal administrations to promote cooperation across postal domains and philately. These stamps help build awareness of common culture, roots and history of Europe. Each year Europa stamps are issued by European postal administrations and enterprises and bear the official EUROPA logo, Europe being the central theme with a specific topic selected annually.

The Romania set includes a Crane in Danube Delta and Castle and mountains while the Ukraine offering is a mini-souvenir sheet and the Lithuania issuance is a delightful Tete-Beche depicting hills, trees and rivers and buildings.
Holiday Venues
Of course now we need to decide whether to fish, hike, sunbathe, take in the magnificent species of the marine life of the sea, or just enjoy the gastronomic experience of these amazing countries.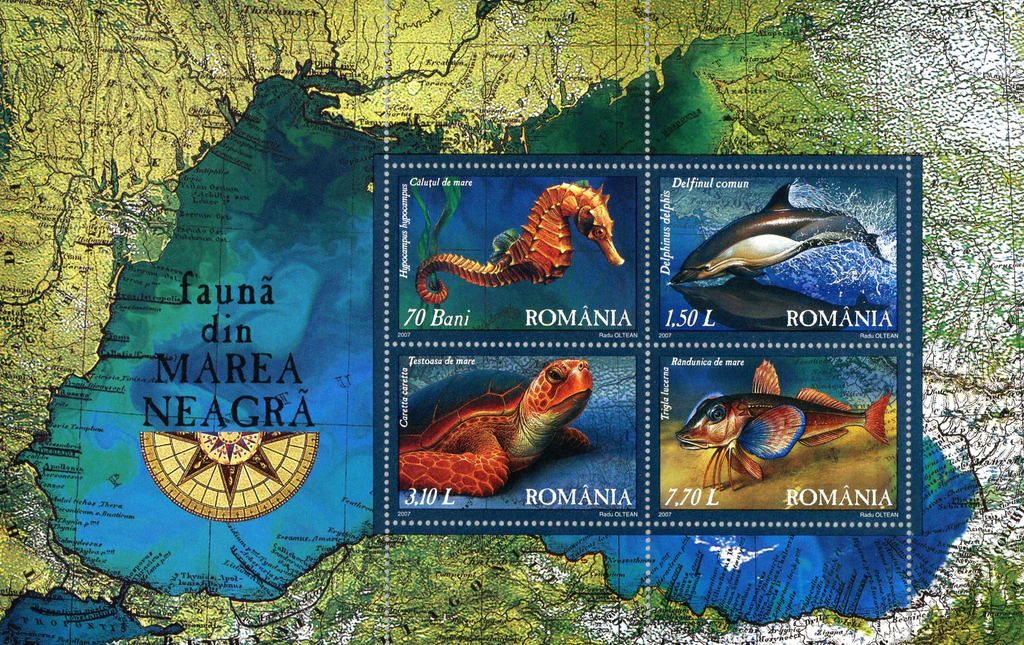 The dramatic Romania sheet features a Seahorse, Dolphin, Loggerhead Turtle and Tub Gunard. The colorful Albania souvenir sheet issuance features a Loggerhead Sea Turtle, Dolphin, Blue shark, Torpedo fish and Octopus.
The Black Sea Marine Life Joint stamp issues of Bulgaria and Ukraine depict dolphins and barnacles while the souvenir sheet of Ukraine Black Sea Marine life features sea horse, dolphins and birds.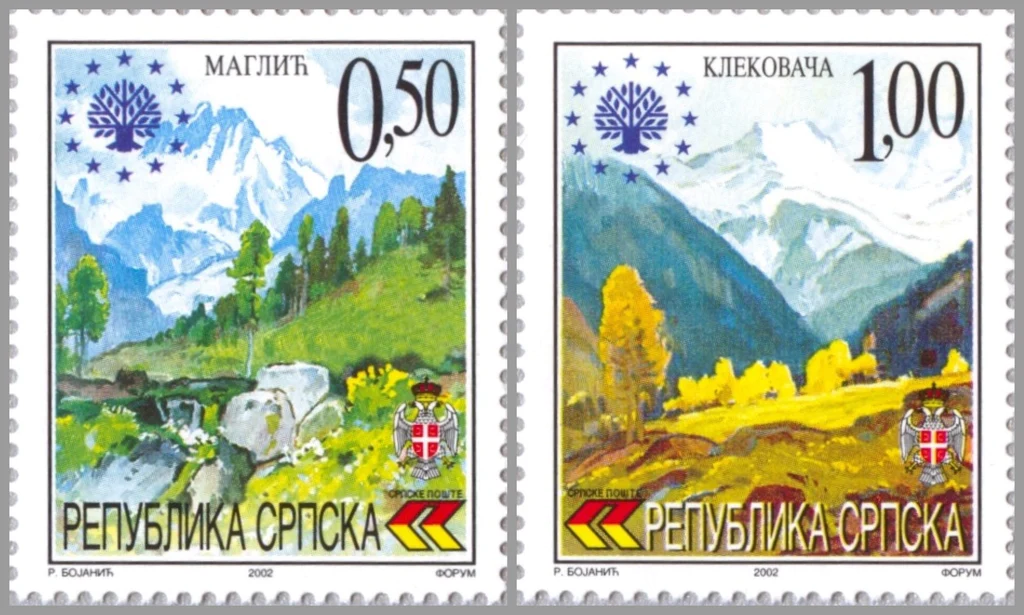 For the outdoor enthusiast, who can resist hiking in Greece represented by stamps Greece – 2012 Nature Tourism stamp set or hiking in the Carpathian Garden of Romania depicted in the Romania set – Carpathian Garden, unless it is to kayak in Slovenia in the Mine Beneath Mount Peca.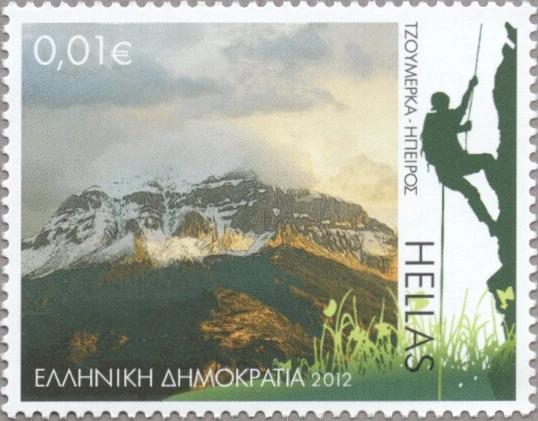 Gastronomy
Naturally, there can not be a complete holiday unless it includes a gastronomic experience and the stamp issuances of the Coastal Eastern Europe countries certainly will not disappoint.
Traditional Gastronomy in the Mediterranean, set issued by Greece includes Spanakopita (Spinach pie) Octopus, Lamb, and Moussaka. Croatia issuance Protected Foods set includes Croatia issued Traditional Mediterranean Gastronomy, The Rab Cake is so much more than a dessert made of meticulously chosen local ingredients: almonds, aromatic lemons, and tart cherry liqueur, with a touch of the sun. It tells the history of the town and the island where every stone house remembers dozens of generations. Of course we should complete our Slovenia Philatelic Gastronomy experience with this 2005 Europa Issuance of a glass of wine!

Who can possibly resist the the delightful Bulgaria stamp issuance which includes Man Diving Through Flaming Heart, Baby Emerging From Chalice, Grapevine, bird, wine coming from vat, Waiter carrying tray with glass and bottle of wine.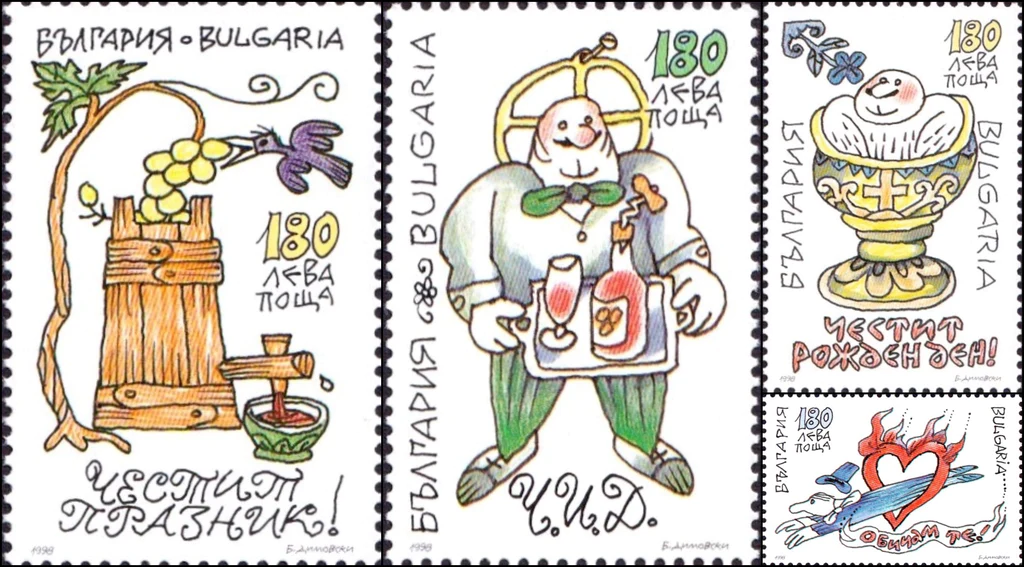 Tourism
Our philatelic holiday is filled with many opportunities for Tourism in the Coastal Countries of Albania, Montenegro and Croatia.
Croatia presided over the European Union in 2020 and designated the European Capital of Culture as Rijeka! Nested within northern coastal Croatia's stunning landscapes, Rijeka is a place beaming with life and a bastion of free-spirited, peaceful coexistence and progressive thinking. Having developed under no less than seven different countries within the last hundred years, Rijeka and its residents offer a plethora of cultural and historical heritage sites. This joint issuances with Ireland celebrating their coastal city of Galway is truly a spirit of coastal cooperation.
Transportation
Deciding how to get to our holiday location gives us many Eastern European philatelic choices whether it be planes or trains, boats and ships or car. Eastern European Coastal Countries give us a wide variety of boat and ship choices: from a fishing dinghy to sailing ships to Viking ships, but we should definitely avoid the war ships. How exciting would a trip on the Orient Express be?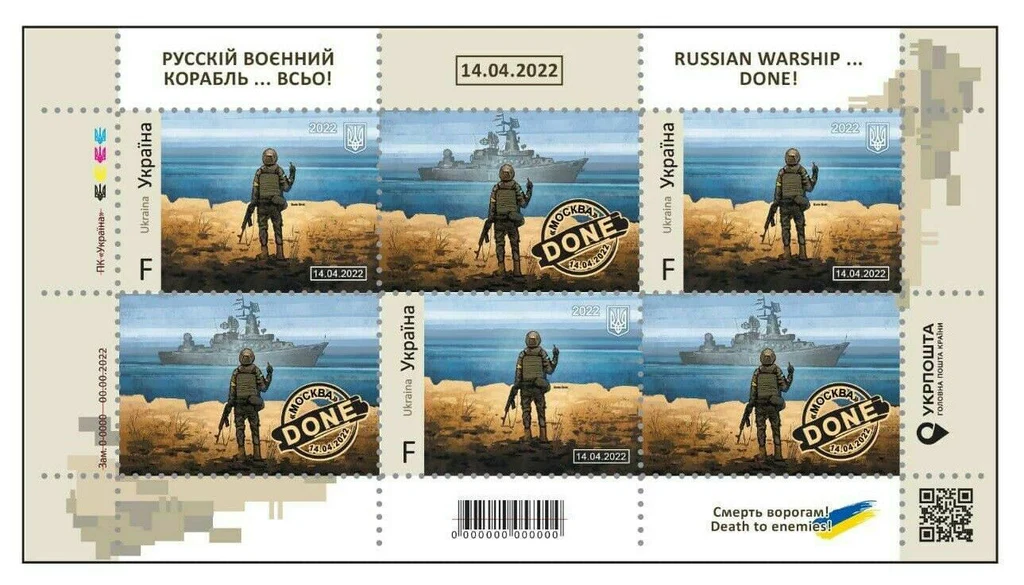 How exciting would a trip on the Orient Express be?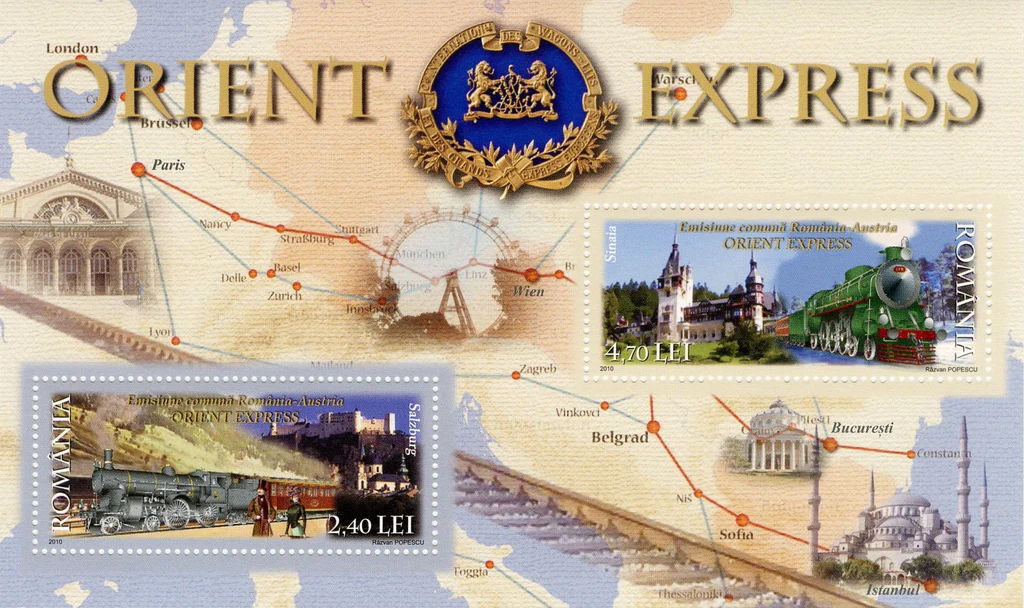 Carnivals and Festivals
Let's not forget those of us that might be traveling with children, grandchildren or nieces and nephews, who can resist carnivals, festivals and the circus or even stamp collecting with the next generation!
We hope you enjoyed "Going On a Philatelic Holiday through the Coastal Countries of Eastern Europe" with us here at HSE and will spend some time browsing through these many exciting stamp offerings in our online store.
The Bauer Family
Hungaria Stamp Exchange